Sequoia Backed Fintech startup Pine Labs Raises $82 Million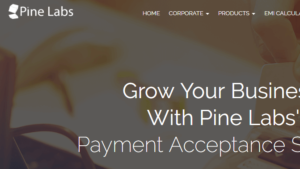 Fintech startup Pine Labs has successfully raised $82 Million (Rs 530 crore) in a funding round led by private equity firm Actis Capital. Altimeter Capital (a technology-oriented investment company) also participated in the funding round, according to a statement issued by the company.
The startup will look to leverage the latest capital infusion by expanding its network across the domestic as well as international markets, Lokvir Kapoor (Pine Lab's CEO) said in an official statement. The company is especially looking to cement its footprints across Asia and the Middle Eastern market. Last year, Pine Lab entered Malaysia after striking an exclusive partnership with one of the leading Malaysian banks.
Pine Lab has one well-known backer in the form of Sequoia Capital. The high profile venture capital company invested nearly $1 million back in 2009 and reportedly owns most of the stakes in the company.
Pine Lab Offers Cloud-based payment solutions                   
Via its dedicated cloud platform, Today Pin Labs offers tailor-made payment solutions to scores of retailers and merchant banks across the globe. The company claims that today more than 75,000 retailers across the country solely depends on Pine Lab's solutions to secularly and reliably manage their payments.
The company also provides quick business loans with bare minimum documentations and flexible rates. This startup happens to be almost a decade old as it was founded in 1998 by Rajul Garg.
Companies like Pin Labs are result of the emergence of finetech companies and their sustained popularity among the investors. In fact, fintech is widely considered to be one of the most well-funded areas in the entire Indian startup ecosystem. Fintech companies have found resonance with investors as well as customers mainly owing to the emergence of superior and modern technologies. Besides, today breakthrough technologies like artificial intelligence (AI), deep learning and machine learning are also aiding Fintech companies to develop more quality products and services.