U.S based Social Commerce Startup Sagoon gets backing from HT Media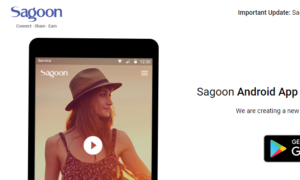 Popular media company HT Media Ltd has received consent from its board to invest $5 million (Rs 32.4 crore) in the Chicago based social commerce startup Sagoon Inc. The further financial details of this deal have not been disclosed. HT Media will be investing in the startup through its Singapore based unit HT Overseas Ptv Ltd.
HT Media is a publisher of popular English newspapers like Hindustan Times and LiveMint as well as highly popular Hindi newspaper Hindustan. It also owns several well-known radio stations and digital properties.
"The reach of Hindustan Times will enable us to further connect with a large market of Indian internet users, which is second largest in the world," said Govinda Giri, founder and CEO of Sagoon.
Sagoon allows to earn while you shop 
Sagoon was launched as a search engine in 2009 by American Indian Govinda Giri. However, it slowly metamorphosed into a social commerce platform that not only allows users to connect & share but also earn rewards while shopping.
Sagoon claims that it is probably the only player in the entire market that connects social habits and shopping in such a unique way. Interestingly, Sagoon is mainly catering to South Asian market, with India being its primary focus.
The company had launched its Andriod app In India in January this year in a special event in New Delhi. Currently, the app is available to download only for Andriod users. Although the app is only few months old in the Indian market, its success in lapping up worthy investor like HT Media speaks immensely about the credit worthiness about its product.
Before funding from HT Media, Sagoon managed to raise $4.8 million, out of which $3.3 million was sourced through 3,000 investors and $1.5 million via private funding.