Healthcare startup LiveHealth Receives $1.1 Million Seed Funding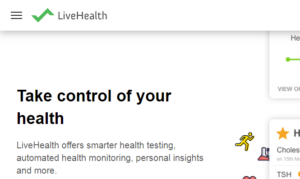 Healthcare startup LiveHealth has secured $1.1 million (Rs 7 crore) in a seed funding round from Nexus Venture Partners, according to official statement issued by the company. The Pune based startup, which was incorporated in 2013, aims to make a huge difference in healthcare space by efficiently maintaining digital medical reports on its dedicated cloud platform.
Livehealth will look to utilize these funds for increasing its strength across the country as well as international markets. Besides, the company also plans to further improve its product and technology, and the latest capital infusion will most certainly prove very handy for this purpose.
Livehealth claims that its products and services can help in bringing ample profit for healthcare providers and diagnostic centers. It can aid in smooth management of patient's medical and financial reports. Additionally, the company offers all its clients deep and actionable insights to increase profitability and revenue.
The startup's co-founders Abhimanyu Bhosale and Mukund Malani are highly optimistic about the company's future prospect. They claim that Livehealth's products are efficient enough to make productive difference in the healthcare space.
Meanwhile, today has turned out to be a good day for healthcare space since quite a few well known startups has managed to raise funds. Financial service startup HDFC has pumped in $10 million in genomics research startup MedGenome.  Wellthy Therapeutics, on other hand, secured Rs 13.5 crore in seed funding.
Over the years healthcare startups have emerged as a preferable investment destination for the domestic as well foreign investments. India's ever rising population and its humongous healthcare needs have given a strong reason to investors to invest in multitudes of healthcare startups. However, despite the promising outlook and prospects there still hasn't been a single unicorn startup from the healthcare space.