How to Easily Convert Spotify Music to MP3 with TuneFab  
As we all know, Spotify is one of the most popular music streaming services. Signing in can happen anywhere and anytime because Spotify is available for most modern devices such as Windows, Mac OS and Linux computers as well as iOS, Windows Phone, Android smartphones and tablets. Users can create, edit, and share playlists and tracks on social media. Besides, Spotify has a huge music library with more than 40 million songs including all the latest and popular songs.
Though Spotify music has so many great features, it is not perfect enough to meet all users' needs. For example, only Premium user is able to listen to ads-free Spotify music and download songs from Spotify for offline listening. So you may ask, is there any chance for Spotify Free users to download music from Spotify without Premium? The answer is yes. Actually, what you need is a professional Spotify music to MP3 converter like TuneFab Spotify Music Converter which brings free to your Spotify music easily and professionally.
TuneFab Spotify Music Converter – The Best Spotify to MP3 Converter
As the name say, TuneFab Spotify Music Converter is designed for downloading and converting Spotify music to DRM-free MP3, M4A, WAV, FLAC , etc. Considering that you may not realize how powerful the program is, so I'd like to show you some major features of the converter for your reference.
#Feature 1. Download Spotify Music Without Premium
As only Premium subscribers are allowed to download Spotify music, then how to listen Spotify offline without premium? Well, TuneFab Spotify Music Converter comes to your rescue. With this powerful program, you can be free to download any songs from Spotify even if you are free subscribers.
#Feature 2. Convert Spotify Music to Plain Formats
Another great feature is that TuneFab Spotify Music Converter can help you convert Spotify music to plain formats. As you know, Spotify's OGG format is not very common and many music players don't support music in OGG format, so in order to play Spotify music with music players including Widows Media Music Player, you need to convert Spotify music to plain formats such as MP3, M4V, WMV and FLAC with the help of the program. Therefore you can enjoy Spotify music on all devices like iPod, iPhone, Zune, PSP, MP3 player and so on without any device authority limitation!
What's more, there is no need to worry about the converted Spotify music can't maintain the same quality as original Spotify music, because there won't be any quality loss during the conversion.
#Feature 3. Customize Audio Parameters
Actually, you can choose not just audio formats, but also audio parameters according to your requirement. With TuneFab Spotify Music Converter, you can set the bit rate and music rate freely to customize the quality of converted Spotify music.
#Feature 4. Save and Edit Spotify Music Information
Using TuneFab Spotify Music Converter to convert Spotify to MP3, then all the information of the songs converted from Spotify will be saved including title, artist, album, etc. In addition to that, sometimes, you may find that some titles are too long or you hope that the song title can be written in your language so you can recognize them easily. Then you will be surprised to find that the program allows you to change the song title as you like easily.
#Feature 5. Select Converting Speed
I believe that some of you may complain about how slow it is to covert Spotify music to MP3 by using other Spotify to MP3 converters and you just can't stand these programs, then you must be satisfied with TuneFab Spotify Music Converter as it enables you to select converting speed, there are two options for you, 1X or 5X. Therefore, you can convert a lot of Spotify music to MP3 without waiting too long.
How to Convert Spotify Music to MP3
As TuneFab Spotify Music Converter has so many impressive features, so you can't miss the program. But how to listen to Spotify offline without premium by using TuneFab Spotify Music Converter? Just follow the step-by-step instructions as below.
Step 1. Download and Register the Program
First, you need to click the download button below to download and install this program on you computer.
If you have installed the latest Spotify program on your computer and you can get access to the music library, then once you launch the program, the Spotify program will be activated automatically.
As the free trial version of TuneFab Spotify Music Converter only allows you to evaluate the software for 30 days, so if you want to use it 30 days later, then you need to click the "Key" button on the top right of the interface to register the program.
Step 2. Add Spotify Music
There are two methods to add Spotify music into the program. First Click "Add Files" on the top left of the interface, then a new interface will be shown up.
Method 1: Copy the relevant links from Spotify and paste them to the search bar. Then click "+" button. If your links are right, then the songs will be shown in the interface, otherwise, you will see a pop-up window tells you the links can't be found.
Method 2: Drag songs, playlists, albums, artists, tracks, etc. from Spotify to the program directly. Then you will see songs show up in the list.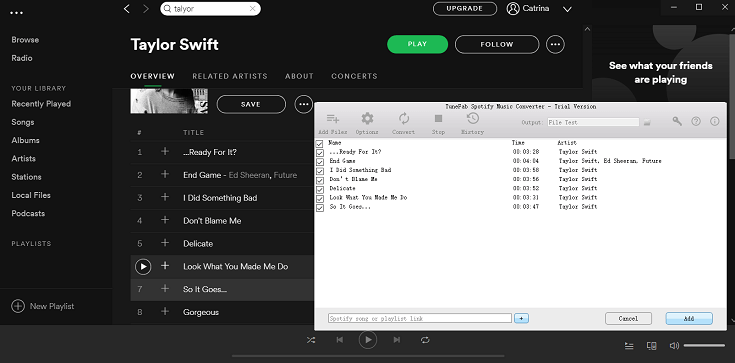 Step 3. Choose Songs to Convert
After adding Spotify music, you need to choose songs to convert. You can either select the songs one by one or select all of them at one time. After that, click "Add" button on the bottom right of the interface.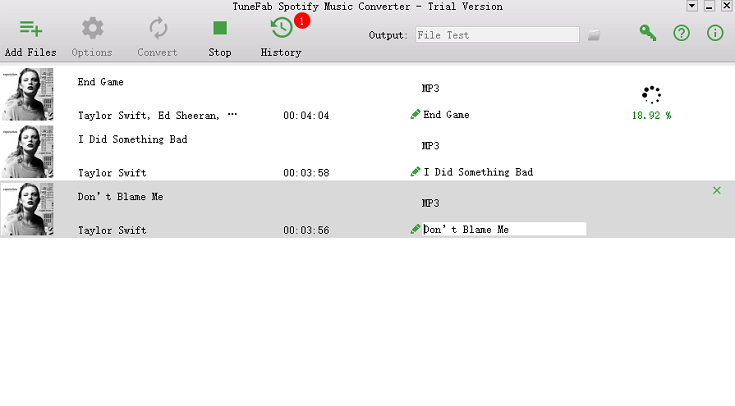 Step 4.Select Output Format
The next step is to select output format. If you want to listen to Spotify music on your computer, smartphone, tablet or other devices, then you need to remove DRM and convert Spotify to other common audio formats such as MP3, M4V, WAV and FLAC.
Click the "Options" button again, and choose "Advanced" on the pop-up window. Choose MP3 or other formats from the format list as output format. In addition to that, you can also change sample rate and bit rate as you like.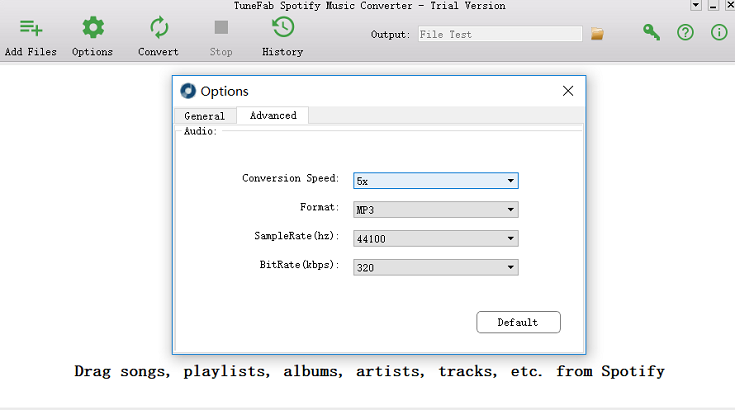 Step 5. Select Output Folder
After selecting output format, then you can choose output folder. Choose "General" next to "Advanced" and click "Select" to change the output folder. It is an optional step, but you need to know where the converted Spotify music would save. If you skip this step and can't find the converted Spotify music, then you can also follow the above instructions to see the original output folder.
Step 6. Convert Spotify Music to MP3
It's the last but most important step. If you have a bunch of Spotify songs to convert, then you may worry about waiting for a long time. But TuneFab Spotify Music Converter can adjust the conversion speed before converting, so you can finish converting with a few minutes.
Click "Option" button and choose "Advanced", then you can select conversion speed as 1X or 5X. 1X means the normal speed while 5X means the 5times of normal speed.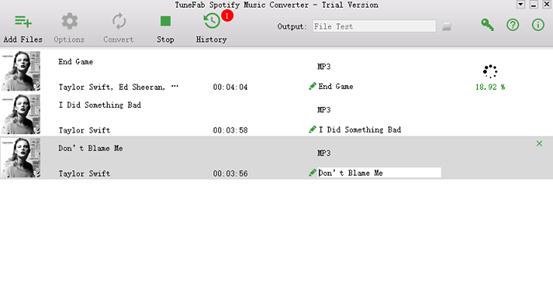 After all is settled, you can click "Convert" button next to the "Option" button to start the conversion. Once the conversion is finished, you can find the converted Spotify music on the output folder. Then you can transfer them to your smartphone, tablet, iPod, etc.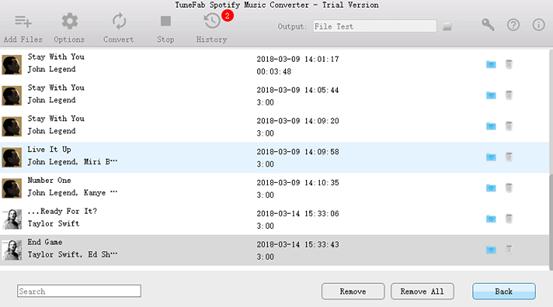 Note: As you may convert a lot of Spotify music to MP3, so if you worry about missing or forgetting some songs, then you can click "History" button to check out.
So, above is the completed guide for how to convert Spotify music to MP3 with TuneFab Spotify Music Converter. This efficient and easy-to-use Spotify to MP3 converter allows you to experience it for free for 30 days, you can decide whether to buy or not after using it for 30 days. But I believe that you will be fallen in love with it and not uninstall it 30 days later, once you converting Spotify to MP3 with TuneFab Spotify Music Converter.
Read More: