On-demand driver platform Driveu secures $3 million in fresh Funding Round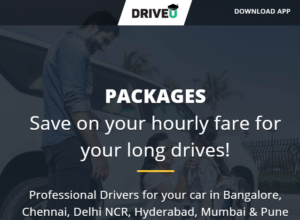 On-demand driver aggregator Driveu has successfully closed on Pre-series A round by securing $3 million (19 crore) by Singhal Foundation and other investors. The Singhal Foundation is an NGO that works extensively for providing education to under-privileged children.
The names of other investors that participated in this round are as follows: Unitus Seed Fund, Geoff Wooley of Patamar Ventures and Rajeev Madhavan of Clear Ventures. All these are existing investors as they had previously invested in the startup in February 2016.
Humble Mobile Solutions, the parent company of Driveu, did not shed light on how it intends to utilize the funds. But there are reports that the company may use part of funds for increasing its existing fleet of drivers from 6,000 to 10,000 drivers.
Besides, some sources claim that the company may also plan to venture beyond its existing markets. Currently Driveu operates in six markets including the Bengaluru city,
Driveu looking to exploit the niche segment
Since hiring a driver is not as popular as hiring a cab, Driveu is looking to penetrate a segment that is very niche. Besides, the completion in this segment is not very cut-throat. However, Driveu has to face intense competition from unorganized players like small driver agencies and taxi associations.
Driveu essentially allows customers to hire drivers on demand by using company's offcial mobile app and website. The customer gets all the important information about the driver once the booking is confirmed, including his name, phone number, location and estimated arrival time.
Driveu was incorporated in 2015 by Ramprasad Shastry, Ashok Shastry, and Amulmeet Singh Chadh. The company is headquartered in the startup hub Bengaluru. Although the startup no doubt still has a long way to go but the company claims to have achieved impressive traction in a very short span of time. It claims to have served more than 350,000 trips and over 100,000 customers.
Read More: