Angel investors back Kolkata based Online grocery retailer Delybazar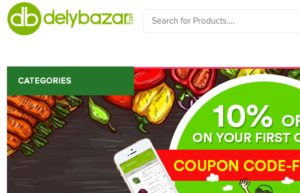 Online grocery retailer Delybazar has successfully managed to raise $3 Million (Rs 2 crore) in a pre-series A funding round led by clutch of angel investors. These investors include Kalyan Guha, Rana Safui and venture accelerator firm Brandshoots Ventures (a subsidiary firm of Bennett Coleman & Co Ltd).
Delybazar's co-founder Abhirup Basak said that the startup will mainly utilize the funds to venture into newer markets like Bhubneshwar, Hyderabad and Bengaluru. He also added that Delybazar will soon raise next round of funding as the company looks to hire new talent and spend more funds in advertising.
Delybazar, which is operated by Delybazar Internet Retail Market Pvt Ltd, was founded in 2015 by group of five highly ambitious entrepreneurs. The startup currently offers online grocery services only in the Kolkata city. Apart from popular grocery products like fruits and vegetables, Delybazar also offers range of exotic meat products like pork meat, duck meat, quali and Turkey.
The company claims that it delivers roughly 10,000 orders every month and earned a turn around of nearly Rs 4 crore in the financial year 2017-18.
Over the last few months online grocery industry has witnessed lot of activities, mainly because Amazon and Flipkart have now diverted their attention in tapping the online grocery market. Both e-commerce behemoths have announced that they would be investing millions in a bid to take sizeable share of India's grocery market.
Amazon and Flipkart's main rival in this space is BigBasket and Grofers. Both online grocery e-tailers have recently managed to raise funds from big investors to fuel their operations and expansion plans. In fact, BigBasket managed to raise whopping $300 million, which should be good enough to offer it a decent leveraging filed to compete against the likes of Amazon and Flipkart.