Bouncie Innovates the Connected Car Experience  
Meet Bouncie
Today's vehicles are computers on wheels, producing massive amounts of data and many consumers have no idea just how smart their car really is or that technology exists to leverage it. That's why we invented Bouncie.
Bouncie transforms almost any vehicle made after 1996 into a connected car by combining your vehicle's computer with our smart device to create an experience unlike any on the market. With Bouncie, drivers can access helpful information such as trip histories, driving habits, vehicle location, and maintenance reminders from our app, website and through smart devices like Amazon Alexa and Google Home.
Our connected car solution is perfect for parents of new drivers who want to make sure their child is developing safe driving habits or small business owners who want to make sure their fleet is operating efficiently and effectively.
Product Features
Driving Data – Bouncie delivers meaningful insights into driving habits. By monitoring key elements such as hard braking, rapid acceleration, average speed and trip history, parents can guide their teenager to becoming a safer and more reliable driver.
Speed Bands – Every trip can be viewed in full color with our revolutionary speed bands feature. See speeds driven throughout each trip mapped according to customizable color ranges. Great for making sure safe speeds are being used.
Vehicle Location – Drivers can view their vehicle's location at any time.
Geo–Circles: Bouncie helps parents and business owners define important zones using Geo-Circles that alert them when family members or work trucks enter or leave a designated area.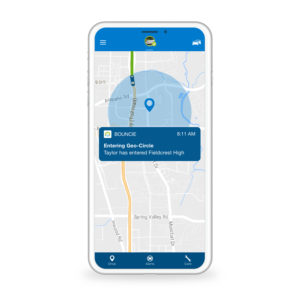 Multiple Logins: Each vehicle can be securely shared with multiple people so mom and dad or business owners and stakeholders can easily keep an eye on their drivers.
Alexa, Google Home and IFTTT Integration – Get trip information, vehicle location and maintenance/fuel levels from any room in your house. We have a number of pre-programmed commands and power users can integrate with IFTTT to automatically send trip data to Google Docs or emails whenever there is an issue.
Vehicle Health and Diagnostics – Bouncie constantly keeps track of vehicle health. If anything, mechanical ever needs attention, drivers will receive an alert on their smartphone, so they can manage the little things before they become big problems.
Vehicle information – Bouncie helps manage all the important information about family vehicles in one place and reminds drivers when it's time to update and renew insurance policies, vehicle registrations, licenses and more.
Easy Install – Our device is compatible with almost any vehicle made after 1996 and Bouncie easily plugs into your car's OBDII port without any tools, wires or installation fees.
Pricing
The Bouncie device is $67 with $8/month for data. There are discounts if you order three or more devices and you can cancel at any time. We also offer an industry leading 45-day money back guarantee.
The Creators
Bouncie is a division of Tail Light LLC, a Dallas-based technology company that has delivered innovative products and applications for the automotive industry since 1998.
For pricing and additional information, please visit https://www.bouncie.com/.
Read More: